Bargersville homes for sale are always changing. For an accurate assessment of your Bargersville homes for sale call or text me at 317-505-1501.
There are many reasons why someone might consider moving to Bargersville, Indiana.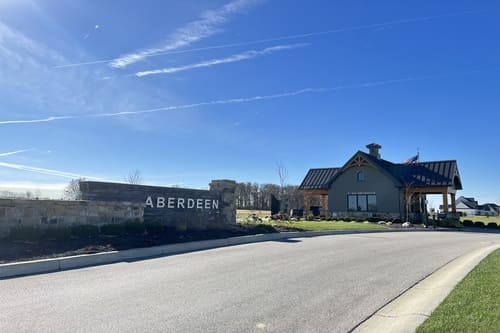 Bargersville, a charming town located in Johnson County, Indiana, offers a plethora of delightful homes for sale. With its serene and welcoming atmosphere, Bargersville provides a perfect setting for those seeking a peaceful community to call home. Prospective buyers can discover a wide range of real estate options, from cozy single-family houses to spacious estates, accommodating various lifestyles and budgets. The homes for sale in Bargersville showcase beautiful architectural designs, with features like modern amenities, well-manicured yards, and scenic views of the surrounding countryside. Whether you're looking for a starter home or a luxurious retreat, Bargersville's real estate market offers an array of options to suit diverse tastes and preferences. Don't miss the opportunity to explore the homes for sale in Bargersville and find your dream residence in this picturesque Indiana town.
Lifestyle    
     Bargersville, Indiana, offers its residents a laid-back and family-friendly lifestyle with a strong sense of community. Nestled in the picturesque countryside, Bargersville provides a peaceful retreat from the hustle and bustle of city life while still offering convenient access to nearby urban amenities. The town boasts a close-knit community, where neighbors come together for various events and activities throughout the year, fostering a strong sense of belonging. The residents of Bargersville enjoy a range of recreational opportunities, including parks, nature trails, and local sports leagues, promoting an active and healthy lifestyle. The town's charming downtown area features quaint shops, local eateries, and regular community events, creating a vibrant and welcoming atmosphere. Additionally, Bargersville benefits from its proximity to Indianapolis, allowing residents to enjoy the cultural attractions, entertainment venues, and shopping options of the nearby city. Overall, Bargersville offers a quality of life that combines the tranquility of a small town with the conveniences of modern living, making it an ideal place to call home for those seeking a balanced and fulfilling lifestyle.
Schools
     Center Grove Schools is a highly regarded educational district located in Johnson County, Indiana. Renowned for its commitment to academic excellence and holistic development, Center Grove Schools offer a top-tier education to its students. The district encompasses a range of schools, including elementary, middle, and high schools, providing a comprehensive educational experience from kindergarten through graduation. Center Grove Schools pride themselves on their dedicated and experienced faculty who strive to create a supportive and engaging learning environment. With a focus on innovation and preparing students for success in the 21st century, Center Grove Schools offer a rigorous curriculum that is complemented by a wide array of extracurricular activities, including athletics, fine arts, and clubs. The district's commitment to student growth extends beyond the classroom, with a strong emphasis on character development, community involvement, and fostering a positive school culture. Center Grove Schools consistently achieve high academic performance, and their graduates often go on to excel in higher education and various professional fields. Families in the area value the exceptional education provided by Center Grove Schools, making it a sought-after district for those seeking a quality education for their children.
Athletics in Bargersville, IN
     Center Grove Athletics is a powerhouse in the realm of high school sports, showcasing a rich tradition of excellence and success. The athletic program at Center Grove High School, located in Johnson County, Indiana, is renowned for its commitment to fostering athletic talent, instilling discipline, and promoting teamwork. The school offers a wide range of sports programs, including football, basketball, baseball, soccer, track and field, wrestling, volleyball, and more. Center Grove's athletic teams consistently rank among the best in the state, competing at high levels and achieving remarkable accomplishments. The dedicated coaching staff provides expert guidance, helping student-athletes reach their full potential and supporting their personal and athletic growth. Center Grove Athletics is not only focused on winning but also emphasizes sportsmanship, integrity, and character development. The program encourages student participation, providing opportunities for students of various skill levels to engage in athletics and experience the benefits of physical activity and teamwork. Center Grove Athletics fosters a strong sense of pride and unity within the school and community, with a loyal fan base that rallies behind their teams during games and tournaments. The program's success is a testament to the hard work, dedication, and talent of the student-athletes, coaches, and the supportive community that values and celebrates athletic achievement.
Entertainment
     Bargersville, Indiana, offers a variety of entertainment options that cater to diverse interests and preferences. Despite its small-town charm, Bargersville provides ample opportunities for residents and visitors to enjoy a vibrant and engaging entertainment scene. The town features local venues that host live music performances, theatrical productions, and community events, creating a sense of cultural enrichment. Additionally, Bargersville is conveniently located near larger cities such as Indianapolis, which opens up a world of entertainment possibilities. Residents can easily access professional sports games, concerts, art galleries, museums, shopping centers, and a wide range of dining options just a short drive away. Whether it's enjoying a leisurely stroll through a local park, attending a community festival, or immersing oneself in the bustling entertainment scene of nearby cities, Bargersville offers a blend of small-town charm and access to exciting entertainment experiences.
Bargersville, IN Market Trends by Real Estate Portal – June 2023
"Realtor.com- If you are looking to buy a home near Center Grove High School, a typical home in the area spends an average of 29 days on the market and has a median listing home price of $350,000. With such high demand, realtor.com® wants to make it easy for you to buy the exact home you want as soon as it hits the market. Above, you will see a list of 268 homes that are currently for sale near Center Grove High School, including open house listings. You can filter your results by the price, the number of bedrooms, the type of home, and more to buy the home that suits you. Be sure to check back often for updated listings or feel free to expand your search to include homes in the entire ZIP code or properties near a similar school district. Many people choose to live near Center Grove High School because of its good reputation as well as its proximity to several parks, recreational areas and higher institutes of learning. Nearby schools include reputed schools, reputed school districts, and reputed universities.
"Redfin.com- What is the median home price in Bargersville?
Homes for sale in Bargersville have a median listing price of $455K. Some of these homes are Hot Homes, meaning they're likely to sell quickly.
"Rockethomes- The inventory of homes for sale in Bargersville, IN between May 2023 and June 2023 decreased by 5.8%. While the average time on the market in June 2023 was 31 days, the median list price was $390,000. Bargersville, IN housing market in June 2023 saw over 4 listings sold above listed price, more than 2 sold at listed price and over 9 sold below.
To start a home search for the Bargersville, IN area or Center Grove Schools, click here.