Franklin Township home values are always changing. For an accurate assessment of your Franklin Township home values call or text me at 317-505-1501.
There are many reasons why someone might consider moving to Franklin Township, Indiana.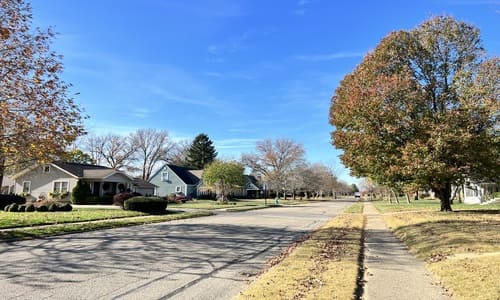 Nestled within the heart of Indiana lies Franklin Township, a hidden gem that embodies the essence of small-town charm while offering a plethora of opportunities and a high quality of life. With its friendly community, stunning natural beauty, excellent schools, and convenient location, it's no wonder why many individuals and families are considering making the move to Franklin Township. In this article, we explore the compelling reasons why one would want to choose Franklin Township as their new home.
Lifestyle
     One of the most attractive aspects of Franklin Township is its close-knit community. Residents take great pride in their town and warmly embrace newcomers, making it easy to build lasting relationships and feel a sense of belonging. Whether it's participating in community events, joining local clubs or organizations, or simply striking up a conversation at the farmer's market, you'll quickly find that Franklin Township offers a true sense of community spirit.
Schools
     Families looking to settle in Franklin Township will be pleased with the exceptional educational opportunities available. The township is home to highly regarded schools, known for their dedication to academic excellence, extracurricular activities, and nurturing environments. With a commitment to preparing students for success, Franklin Township Community School Corporation offers a range of educational programs designed to meet the diverse needs and interests of its students.
Location
     Franklin Township's strategic location provides the best of both worlds. Situated just minutes away from downtown Indianapolis, residents can enjoy easy access to the city's vibrant cultural scene, employment opportunities, and major sports events, while still being able to retreat to the tranquility of their suburban oasis. The township's proximity to major highways also ensures convenient travel to other regional attractions, including the Indianapolis International Airport.
Nature enthusiasts will find themselves captivated by the picturesque landscapes that surround Franklin Township. The area boasts numerous parks, nature trails, and green spaces, inviting residents to explore and enjoy outdoor activities. From the scenic Franklin Township Greenway and Southeastway Park to the serene Brandywine Creek, there are endless opportunities for hiking, biking, fishing, and picnicking, allowing residents to reconnect with nature and lead a healthy lifestyle.
Housing
     One of the significant advantages of Franklin Township is its affordability. The cost of living is reasonable compared to other parts of Indiana, and housing options are diverse, ranging from well-established neighborhoods to newer developments. Whether you're seeking a charming historic home or a modern suburban residence, Franklin Township has something to suit every taste and budget.
Economy
     Franklin Township benefits from its proximity to Indianapolis' robust economy while also fostering its own local business community. Residents have access to a range of employment opportunities in various sectors, including healthcare, education, technology, and manufacturing. Additionally, the township's entrepreneurial spirit encourages the growth of small businesses, contributing to a vibrant and diverse economic landscape.
Franklin Township, IN Market Trends May 2023
"Realtor.com- What is the median home price in Franklin Township, IN?
In May 2023, the median listing home price in 46239 was $324.9K, trending up 9.4% year-over-year. The median listing home price per square foot was $145. The median home sold price was $275.7K.
What is the market for active homes for sale in Frankin Township, IN? Franklin Township is a buyer's market in May 2023, which means that the supply of homes is greater than the demand for homes.
"Redfin.com- What is the housing market like in Franklin Township today?
In May 2023, 46239 home prices were up 2.1% compared to last year, selling for a median price of $301K. On average, homes in 46239 sell after 27 days on the market compared to 4 days last year. There were 174 homes sold in May this year, up from 173 last year.
"Rockethomes- Number of homes for sale in Franklin Township, IN real estate market have reached 155. In May 2023 in Franklin Township, IN there were 9.2% more homes for sale than in April 2023. The median list price of listings available in May 2023 was $289,926, while the average time on the real estate market was 32 days. This housing market listing prices have changed between April 2023 and May 2023: 1 bedroom properties became 0% more expensive, the cost of 2 bedrooms properties went down by 1.8%, the cost of 3 bedrooms properties went up by 7.2%, 4 bedrooms properties prices increased by 5.1%, 5 bedrooms properties became 7.4% more expensive. The following changes in the number of homes for sale were observed in this housing market: 1 bedroom homes did not move, number of 2 bedrooms homes increased by 33.3%, 3 bedrooms homes inventory did not change, the quantity of 4 bedrooms homes went up by 4.1%, 5 bedrooms homes inventory increased by 43.8%. While more than 15 listings in 46239, IN in May 2023 were sold above asking price, there were more than 9 listings sold at asking price, and more than 13 were sold below.
For a free Franklin Township home values evaluation, click here.