Perry Township Home Values
Perry Township home values are always changing. For an accurate assessment of your Bargersville home values call or text me at 317-505-1501.
There are many reasons why someone might consider moving to Perry Township, Indiana.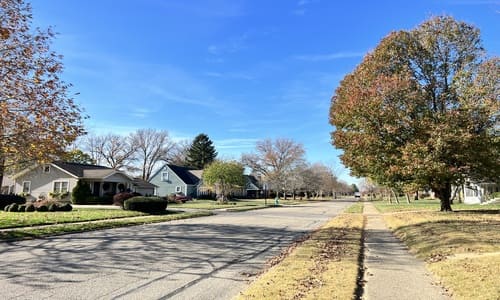 Perry Township, located in Marion County, Indiana, offers a compelling destination for those seeking a blend of suburban tranquility, convenient amenities, and a strong sense of community. With its diverse neighborhoods, excellent schools, abundant recreational opportunities, and proximity to Indianapolis, Perry Township stands out as an appealing choice for individuals and families looking to establish roots in a welcoming and thriving community. In this article, we will explore the key reasons why someone would consider moving to Perry Township.
Convenient Location
     Situated just south of downtown Indianapolis, Perry Township provides easy access to the heart of the city while offering a peaceful and suburban lifestyle. Residents can enjoy the benefits of a serene environment without sacrificing proximity to the bustling urban center. Commuting to downtown Indianapolis or neighboring areas is convenient, thanks to major roadways like Interstate 465 and Interstate 65. The Indianapolis International Airport is also just a short drive away, ensuring seamless travel connections. Perry Township home values are directly affected by it's convenient location.
Quality Education
      For families considering a move to Perry Township, the area boasts a strong educational system. The township is home to several highly regarded public and private schools, offering quality education options for children of all ages. Perry Township Schools, the local public school district, is committed to providing excellent learning opportunities and offers a variety of programs and resources to support students' academic and personal growth.
Natural Beauty and Recreational Opportunities, Perry Township
     Nature enthusiasts will find plenty to explore in Perry Township. The area boasts numerous parks, green spaces, and trails, providing ample opportunities for outdoor activities, such as hiking, biking, and picnicking. Southeastway Park, Southwestway Park, and Smock Golf Course are just a few examples of the recreational facilities available within the township. Additionally, nearby Eagle Creek Park, one of the largest municipal parks in the United States, offers a vast array of outdoor activities, including boating, fishing, and birdwatching.
Community Spirit and Events
            Perry Township is renowned for its strong sense of community and active civic engagement. The township hosts various community events, festivals, and farmers' markets throughout the year, fostering a spirit of togetherness and providing opportunities for residents to connect with one another. These events often showcase local talent, promote small businesses, and celebrate the vibrant cultural diversity within the community.
Amenities and Services
      Residents of Perry Township enjoy access to a wide range of amenities and services that contribute to a comfortable and convenient lifestyle. The area features shopping centers, grocery stores, restaurants, and entertainment options, ensuring that residents have easy access to everyday necessities and leisure activities. In addition, nearby healthcare facilities and medical centers provide excellent healthcare services, assuring residents of quality care when needed.
Perry Township, Indiana, offers an appealing blend of suburban tranquility, convenient amenities, and a strong sense of community, making it an enticing destination for individuals and families alike. With its convenient location, quality education system, affordability, natural beauty, and thriving community spirit, Perry Township provides an excellent environment for those seeking a place to call home. Whether you are drawn to the area for its tranquility, its robust educational opportunities, or its vibrant community events, Perry Township has much to offer, making it a compelling choice for those considering a move to the region.
Perry Township, IN Market Trends by Real Estate Portal – May 2023
"Redfin.com- What is the median home price in Perry Township?
Homes for sale in Perry Township have a median listing price of $250K. Some of these homes are Hot Homes, meaning they're likely to sell quickly.
Perry Township real estate trends
$233K
Sale Price
-1.5%
since last year
$140
Sale $/Sq. Ft.
-2.1%
since last year
Over List Price
0.4%
Days on Market
13
Down Payment
16.7%
Total Homes Sold
140
"Rockethomes- Homes for sale in Perry Township, IN have reached 317. The number of homes for sale in Perry Township, IN decreased by 6.8% between April 2023 and May 2023.Listings spent 34 days on the market in May 2023, and had a median list price of $235,000 during the same period. Real estate listing prices changed between April 2023 and May 2023: the cost of 1 bedroom properties went up by 65.6%, the cost of 2 bedrooms properties went up by 14.1%, 3 bedrooms properties became 8.4% more expensive, prices of 4 bedrooms properties went up by 7.9%, 5 bedrooms properties prices increased by 11.8%. Volume of homes for sale changed: 1 bedroom homes became 100% less available, volume of 2 bedrooms homes stayed the same, number of 3 bedrooms homes decreased by 1.6%, number of 4 bedrooms homes decreased by 17.8%, volume of 5 bedrooms homes went down by 23.1%. In May 2023, from all listings sold in Perry Township, IN there were more than 46 sold above asking price, over 50 sold below and more than 38 were sold right at the asked price.
For a FREE Perry Township Home Value Report, click here.