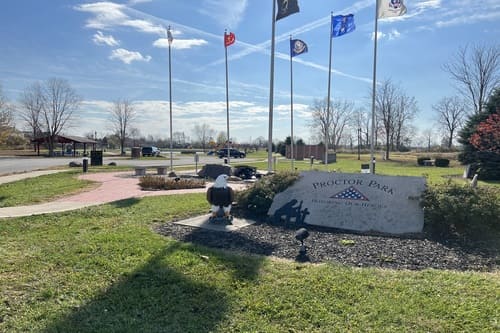 Whiteland home values are always changing. For an accurate assessment of your Whiteland home values call or text me at 317-505-1501.
There are many reasons why someone might consider moving to Whiteland, Indiana.
Whiteland offers a charming and close-knit community that is known for its friendly residents and strong sense of belonging. The town's welcoming atmosphere, coupled with a range of community events and festivals, creates a vibrant and inclusive environment. Additionally, Whiteland's affordable cost of living is a significant draw, with lower housing prices and rental rates compared to larger cities. The area also boasts quality schools, making it an attractive destination for families seeking an excellent education for their children. Furthermore, Whiteland's convenient location, just south of Indianapolis, provides easy access to urban amenities while maintaining a peaceful suburban or small-town lifestyle. With its proximity to outdoor recreational areas and a variety of employment opportunities, Whiteland offers a balanced and fulfilling quality of life for those looking to settle in a welcoming and affordable community. Whiteland home values start in the low $100,000 range all the way up to exquisite executive style homes
Lifestyle
The lifestyle in Whiteland, Indiana, offers a blend of suburban comfort and a close-knit community atmosphere. Residents enjoy a peaceful and relaxed environment, away from the hustle and bustle of larger cities, while still having easy access to urban amenities. This small town feel keeps Whiteland home values strong. The town's strong sense of community is evident through various local events and festivals that bring neighbors together and foster a welcoming atmosphere. Whiteland is known for its friendly residents who take pride in their town and actively participate in community activities. The area boasts several parks, lakes, and recreational areas nearby, providing ample opportunities for outdoor activities such as hiking, biking, fishing, and picnicking. The town also has a range of local businesses, restaurants, and shops that cater to residents' needs. Additionally, Whiteland offers quality education through its reputable schools, making it an appealing destination for families. With its affordable cost of living, strong community ties, and access to both natural beauty and urban conveniences, Whiteland provides a well-rounded and fulfilling lifestyle for its residents.
Schools
Whiteland, Indiana, is served by the Clark-Pleasant Community School Corporation, which oversees the public schools in the area. The school system is known for providing a quality education to its students and has a strong reputation within the community.
The Clark-Pleasant Community School Corporation operates several schools in Whiteland, including elementary, middle, and high schools. Whiteland Elementary School serves students in grades K-2, Break-O-Day Elementary School serves grades 3-5, Clark-Pleasant Middle School serves grades 6-8, and Whiteland Community High School serves grades 9-12.
The schools in the Clark-Pleasant Community School Corporation are committed to academic excellence, offering a comprehensive curriculum that focuses on core subjects like English, math, science, and social studies. Additionally, students have access to a range of elective courses and extracurricular activities, including arts, music, sports, and clubs, which help foster well-rounded development.
The school system is staffed by dedicated educators who strive to create a positive and supportive learning environment for students. Teachers work closely with students, providing personalized attention and support to help them succeed academically and personally.
The Clark-Pleasant Community School Corporation emphasizes the importance of parental involvement in education and maintains open lines of communication between schools and families. There are opportunities for parents to engage with the schools through parent-teacher organizations, volunteering, and attending school events.
Overall, the school system in Whiteland, Indiana, is known for its commitment to providing a high-quality education, fostering a nurturing environment, and preparing students for their future endeavors.
Athletics in Whiteland, IN
Athletics play a significant role in the community of Whiteland, Indiana. The town takes pride in its athletic programs, which provide opportunities for physical fitness, teamwork, and personal growth among students.
Whiteland Community High School offers a wide range of competitive sports teams for both boys and girls. These include football, basketball, baseball, softball, volleyball, soccer, track and field, cross country, wrestling, tennis, golf, and swimming. The high school's athletic teams, known as the Whiteland Warriors, participate in the Indiana High School Athletic Association (IHSAA) competitions and have achieved success in various sports over the years.
The community supports its athletic teams, with parents, students, and residents attending games and cheering on the athletes. Sporting events often bring the community together, fostering a sense of unity and school spirit.
In addition to high school athletics, Whiteland also offers youth sports programs for children of various age groups. These programs, organized through local community centers and organizations, provide opportunities for children to learn and participate in sports such as soccer, basketball, baseball, softball, and more.
Whiteland's emphasis on athletics goes beyond competition; it also promotes values such as teamwork, discipline, dedication, and sportsmanship. Participation in sports helps students develop physical fitness, self-confidence, leadership skills, and the ability to work collaboratively with others.
The athletic programs in Whiteland, Indiana, provide students with a platform to showcase their talents, compete at different levels, and learn valuable life skills. They contribute to the overall well-being of the community by promoting healthy lifestyles, fostering a sense of community pride, and creating lasting memories for participants and spectators alike.
Entertainment
Whiteland, Indiana, offers a range of entertainment options for residents and visitors to enjoy. While it is a smaller town, there are still several activities and venues that provide recreational and cultural experiences.
1.     Parks and Outdoor Recreation: Whiteland is home to several parks and outdoor spaces where residents can engage in various activities. Community Park, for example, offers amenities such as playgrounds, sports fields, walking trails, and picnic areas, providing opportunities for outdoor recreation and family gatherings.
2.     Festivals and Community Events: Throughout the year, Whiteland hosts festivals and community events that bring the town together. These events often feature live music, food vendors, games, and activities for all ages. The festivals provide a fun and festive atmosphere for residents to enjoy.
3.     Local Restaurants and Dining: Whiteland has a selection of local restaurants and eateries where residents can indulge in a variety of cuisines. Whether you're looking for a cozy café, family-friendly diners, or casual eateries, there are options to satisfy different tastes and preferences.
4.     Nearby Shopping and Entertainment Centers: While Whiteland itself may have limited shopping options, the town is conveniently located near larger retail centers and entertainment venues. Residents can visit nearby cities like Greenwood and Indianapolis for a wider range of shopping malls, movie theaters, arcades, and other entertainment facilities.
5.     Local Recreation Programs: Whiteland offers a range of recreational programs for residents of all ages. These programs can include sports leagues, fitness classes, arts and crafts workshops, and other activities organized by local community centers and organizations. These opportunities provide avenues for personal growth, skill development, and social engagement.
It's important to note that as a smaller town, Whiteland's entertainment options may be more limited compared to larger urban areas. However, its proximity to nearby cities allows residents to easily access a broader array of entertainment choices.
Whiteland, IN Market Trends by Real Estate Portal – May 2023
"Realtor.com- What is the median home price in Whiteland, IN?
Homes for sale in Whiteland, IN have a median listing home price of $296,375.
What is the number of active homes for sale in Whiteland, IN?
There are 55 active homes for sale in Whiteland, IN.
What are some of the most popular neighborhoods near Whiteland, IN?
Some of the hottest neighborhoods near Whiteland, IN are South Franklin, Galludet, South Perry, Linden Wood, I65-South Emerson.
What are some popular zip codes and neighborhoods around Whiteland, IN?
You may also be interested in single family homes and condo/townhomes for sale in popular zip codes like 46143, 46203, or three bedroom homes for sale in neighboring cities, such as Indianapolis, Greenwood, Franklin, Fishers, Carmel.
"Redfin.com- In March 2023, Whiteland home prices were up 29.0% compared to last year, selling for a median price of $323K. On average, homes in Whiteland sell after 35 days on the market compared to 3 days last year. There were 14 homes sold in March this year, down from 23 last year.
"Rockethomes- Whiteland, IN has 53 homes on the market. In April 2023 in Whiteland, IN there were 15.9% less homes for sale than in March 2023. The median list price of listings available in April 2023 was $284,000, while the average time on the real estate market was 43 days. Between March 2023 and April 2023, listing prices of homes in this real estate market have seen the following changes: 1 bedroom properties prices increased by 0%, prices of 2 bedrooms properties increased by 3.7%, the cost of 3 bedrooms properties went up by 7.3%, 4 bedrooms properties prices increased by 12.3%, prices of 5 bedrooms properties went up by 23.5%. Housing inventory have changed in this real estate market: number of 1 bedroom homes remained the same, number of 2 bedrooms homes remained the same, 3 bedrooms homes inventory decreased by 3.2%, the quantity of 4 bedrooms homes went down by 45.5%, 5 bedrooms homes became 14.3% more available. While more than 2 listings in Whiteland, IN in April 2023 were sold above asking price, there were more than 7 listings sold at asking price, and more than 12 were sold below."
Whiteland home values are changing, for a free report, click here.